Received a trio of successes back this week including a pretty neat one from Scott Moore.
Also received another auto for my 1958 Topps team set. This one in the way of Jerry Walker. He had a pretty interesting career with the O's. He never played in a minor league game and went straight to the bigs at age 18. The 1959 season was by far his best season with the O's. He went 11-10 with an ERA of 2.92 and 7 complete games. Due to his efforts he was awarded a spot on the AL All Star team, where he holds the record for youngest starting pitcher in an All Star game. Walker currently serves as a Vice President of the Cincinnati Reds.
The final success of the week came from Keith Moreland. Keith finished out his career with the Orioles in 1989. I sent to him via the radio station he works at as a broadcaster for the Texas Longhorns. I read that on Wednesday he was announced as being the Cubs new color newscaster, taking place of Ron Santo.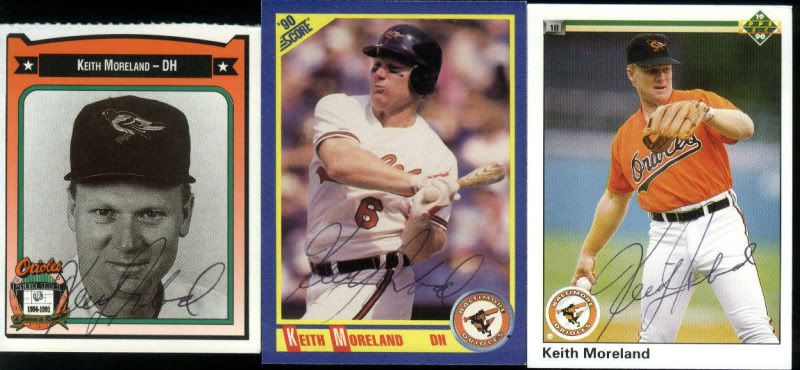 I also managed to add a few new O's in a trade on Sportscollectors.net. In exchange for Wade Boggs I received the following: