I've been busy on eBay purchasing some new O's autos to add to my collection.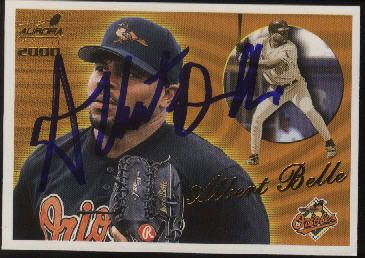 Belle came to the O's in 1999 after his monstrously successful 98 season with the White Sox. Hidden in his contract was a clause that stated he must remain one of the top 3 paid players in the MLB and the Orioles were more than happy to sign Belle to a 5-year, $55 million deal. Belle only finished 2 of those seasons and retired after the 2000 season. I found it interesting to note his favorite childhood team was the O's and his favorite players were Eddie Murray and Jim Palmer. Belle is known for being the only player to ever hit 50 homeruns and 50 doubles in one season.
Bobby Floyd appeared with the Birds from 1968 t0 1970. He later went on to play for the Royals and after his professional career was over he managed 11 different minor league teams from 1977 to 2006.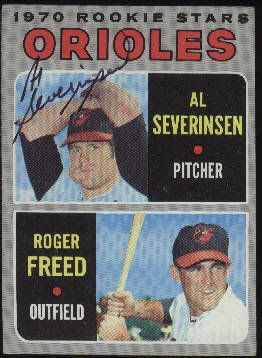 Severinsen only played for the Orioles for 1 year in 1969 and later went on to play for the San Diego Padres post a career 3-7 record with a 3.08 ERA.
I was happy to add Pat Dobson to my unofficial collection. As of right now I only count them towards my Orioles total if they are pictured in an O's uniform or on an index card. Dobson was known for the 1971 season and the O's "Big Four" Pitching staff. Along with Jim Palmer, Mike Cuellar, and Dave McNally, the Orioles pitching staff accomplished something that had only been done once. Field a team that had 4, 20 game winners. Dobson went 20-8 with a 2.90 ERA.
Nothing new in the mailbox today so I will share some more recent TTM successes:
'Rocky' played 11 seasons in the majors but his longest stint with one teams was with the Birds from 1963-67. Johnson is most well known for being a member of the 1966 World Series Championship team.
Al wore #2 for the Baltimore Orioles from 1957-1960. After his retirement he obtained his Master's at Purdue University and he was a health teacher and baseball, football, and basketball coach in Indiana for 34 years.


Russ Snyder played for the O's from 1961 to 1967. He recollects his favorite memory is sweeping the Dodgers in 4 straight in the 1966 World Series where he played in 3 games and collected a hit and an RBI.